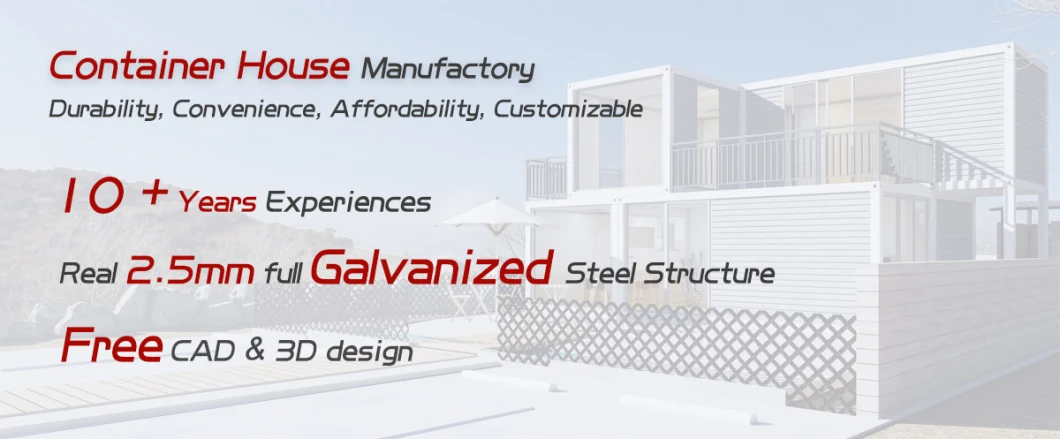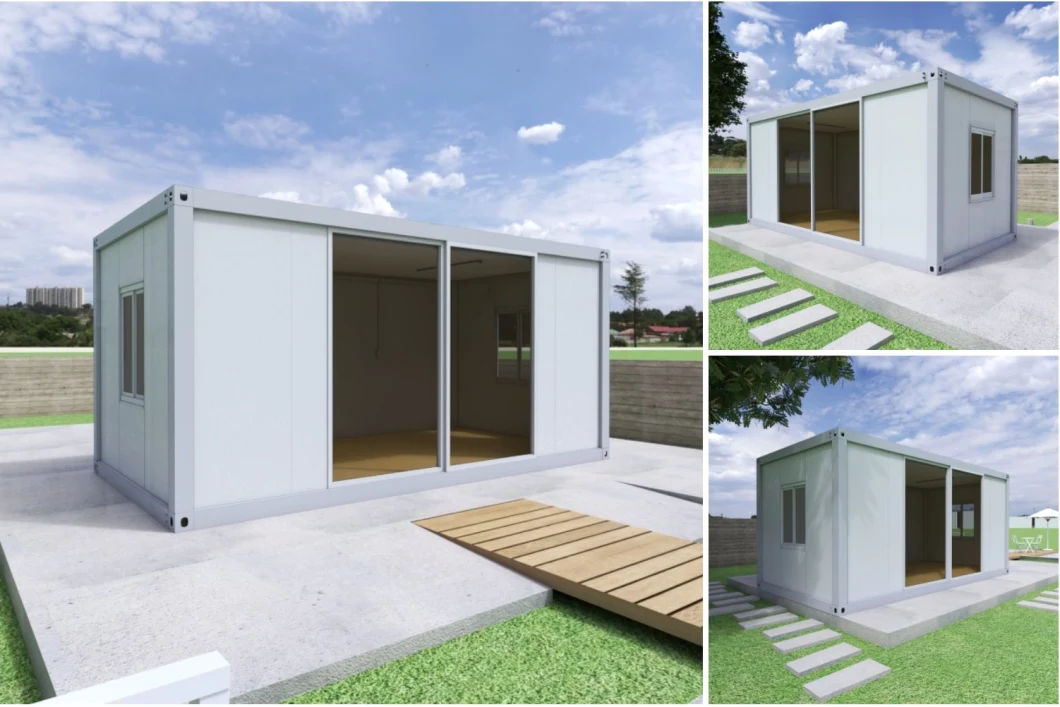 Product Description
1. Parameter
The following parameters are for our standard luxury tiny 2 bedroom prices.

| | | | |
| --- | --- | --- | --- |
| Type | Detachable flat pack container house | Assembly | All use bolts, No welding |
| Color | White Column,white color panel | Application | Portable office,villa,camp |
| Drain systom | Yes,4 water pipes | Door | Steel or glass door |
| Each container size | 3*6*2.85 meter | Window | 950mm*1200mm alloy window |
| Material | Q235 galvanized steel, EPS panel | Floor | MGO board or wooden floor |
| Delivery time | 5-7 days | Panel size | All use bolts, no welding |
| Electric | 2 lights,wires,socket,switch | Platform | Steel structure base plat form avaiable |
2. Best Price
The price is

1499USD

for 40HQ (14 sets). If you need quantities less than 14 sets, please contact one of our salespeople.
Please Note: The above pricing is based on standard detachable flat pack container house parts.

3. Details
We provide a detailed list of parts that come with the shipment on our invoices. Customers know exactly what they have purchased and what they have received. Our goal is to ensure every order is fully executed to the customer's standard.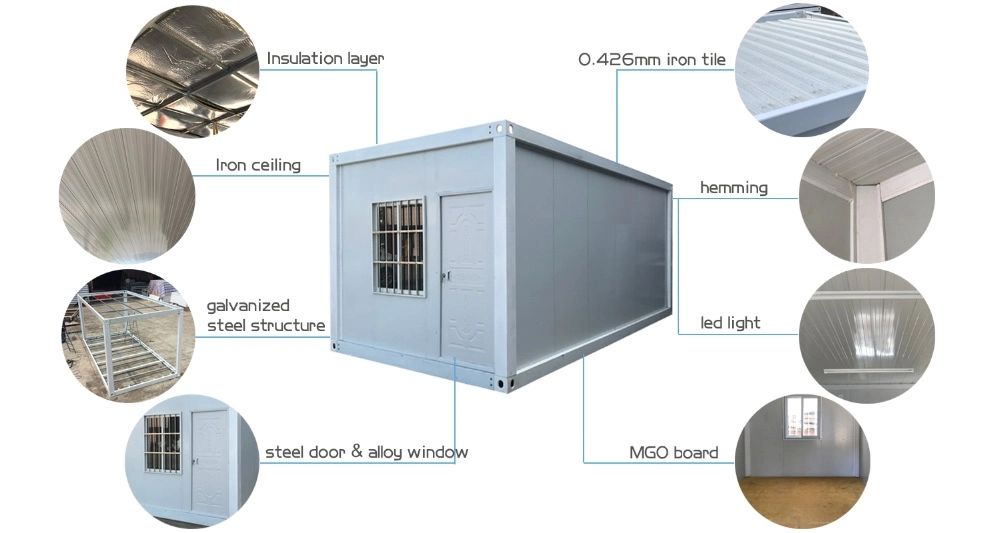 Customization
1. Custom Size
The size of our detachable flat pack container houses can be customized to meet your individual needs. Our standard size is 6L x3W x 2.85H meters. To load in 20GP, the length must be 5.8 meters.

Please Note: Some countries only allow a width of 2.4 meters when the assembled container house will be transported on the road. For this, we can make the size 2.4x5.8x2.85 meters.
2. Custom Extra Parts
Customers can add extra parts for the container house. These additions include: stairs, terrace, glass guardrails, triangular
roof, glass walls, toilet, canopy, corridor, and/or steel guardrails.

3. Custom Color
A. We can print beam colors according to customer's requests in white, blue, or grey.
B. The door and roof tile will normally be white. The standard MGO board floor is yellow but you could choose different rubble floor colors.
C. Our sandwich wall panel come in many colors, as seen below. You can choose these for both the inside and outside walls.
4. Custom Design
If you already have a drawing of what you are looking for, please send it to us. Our designers can provide you a free 3D drawing based on your design.
Advantages
1. Anti-rusty:Galvanized Steel Frame
A. We use hot dip galvanized Q235 steel for all the beams, columns, and purlins. It is high performance and anti-rust. Some factories only use electrolytic plate or black steel material, which will rust very easily.
B. We use 2.5mm galvanized steel (2.7mm after painting). Other factories only use 2.3mm steel (2.5mm after painting). This will easily bend when you hold and transfer it.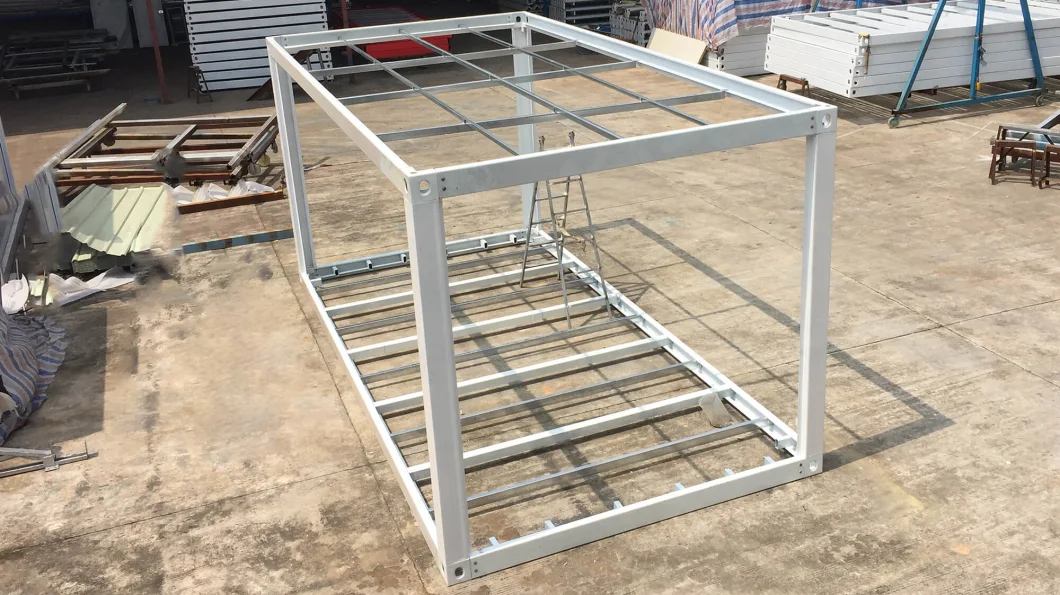 2. Large Space & Luxurious Decoration
A.
Large space: Our standard outside size is 6x3x2.85 meters. The internal space of the unit is 5.83x2.875x2.6 meters. This is larger than most shipping containers which are only 2.4x6x2.35 meters.
B.
Luxurious decoration: The steel structure is hidden inside the walls, the electric cables are hidden inside the ceiling, and there is also plastic corner hemming.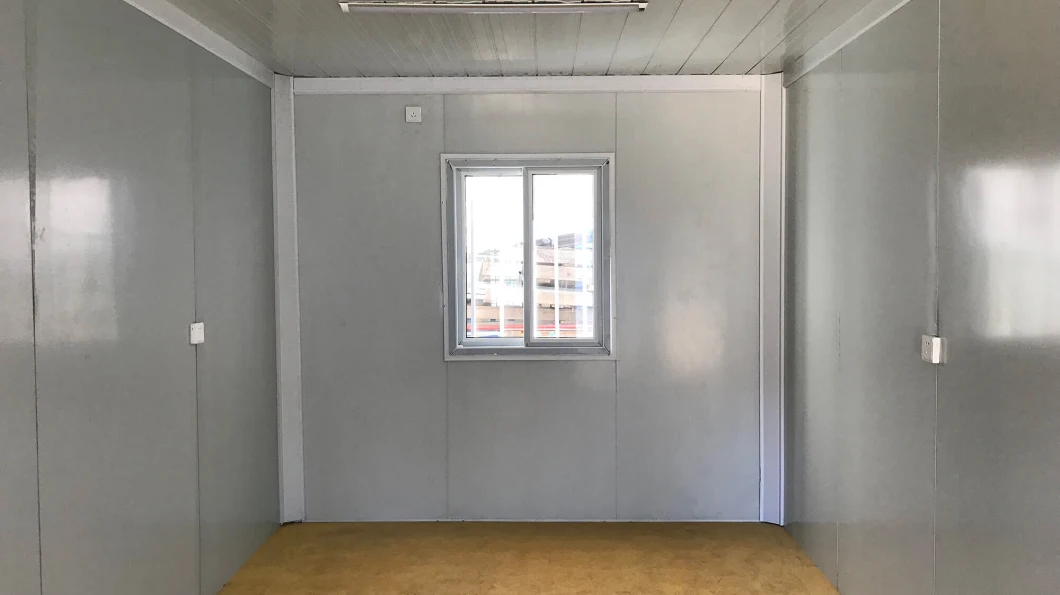 3. High Performance Drain System
A.
Our units feature a four-side inner drain system. The bending piece with a slot and aqueduct, which are hidden in columns,work together to make water flow easily out. Even heavy rain won't clog this drainage system. Other factories' drainage channels are small and the drains are easily blocked.
B.
All our containers use bolts for assemble. No welding is required. This means easy assembly of the container house. There is no need use a forklift or crane. It is easy for 2 adults to move all the materials and assemble it.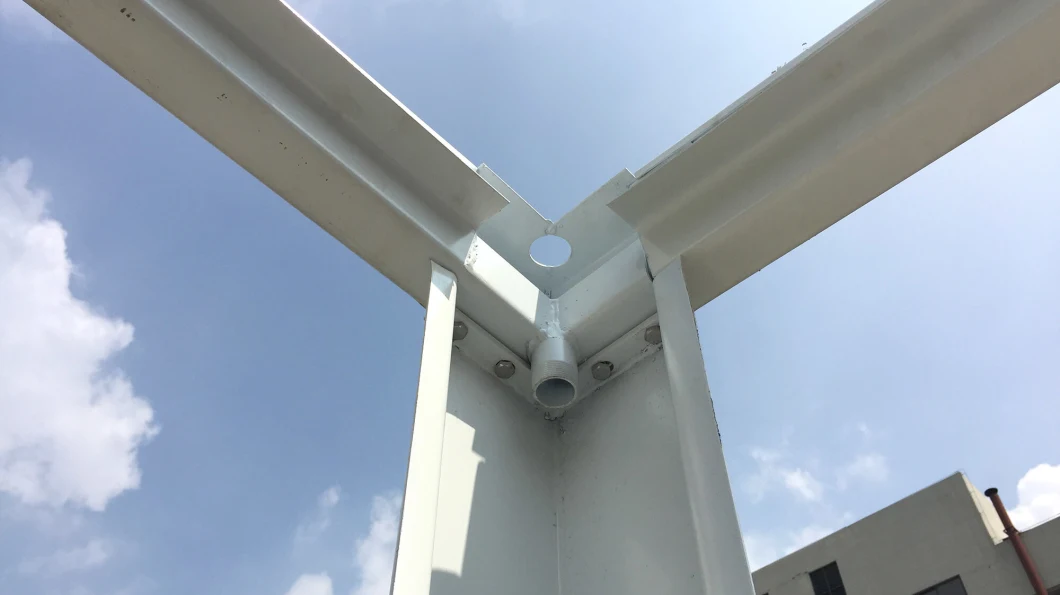 4. Strong Hanging Head
We use 3.5mm steel (3.7mm after painting) for the hanging head. It is very strong and ensures safety while lifting.
5. Durable Iron Ceiling
A. We use 0.426mm iron ceiling which is simple and durable.
B. Plastic hemming hides the electric cables inside.
6. Wave Tile For The Roof
We use 0.426mm wave tile. The tile is inserted into another tiles' wave which prevents the roof from leaking. The curved roof also makes drainage faster.
About Us
1. About Our Factory
JJC house is located in Guangzhou, Guangdong, the most prosperous city in the south of China. We produce, develop, and export container houses, portable toilets, prefab houses, prefab villas, and more. Our hard-working, dedicated team and harmonious atmosphere makes our products are better and diversified. They not only look beautiful, but are also practical for many uses.

JJC house is committed to provide first-class quality and efficient pre-sale and after sale services. This is what has led to our stellar reputation with our customers from around the world.
2. About Our Teams
Our team has attended several times Canton Fair several times. Here, we have met a lot of great customers and have gotten excellent consumer feedback.

3. Our Project
We create many projects for the Chinese market and aboard. These are our two largest customers in China.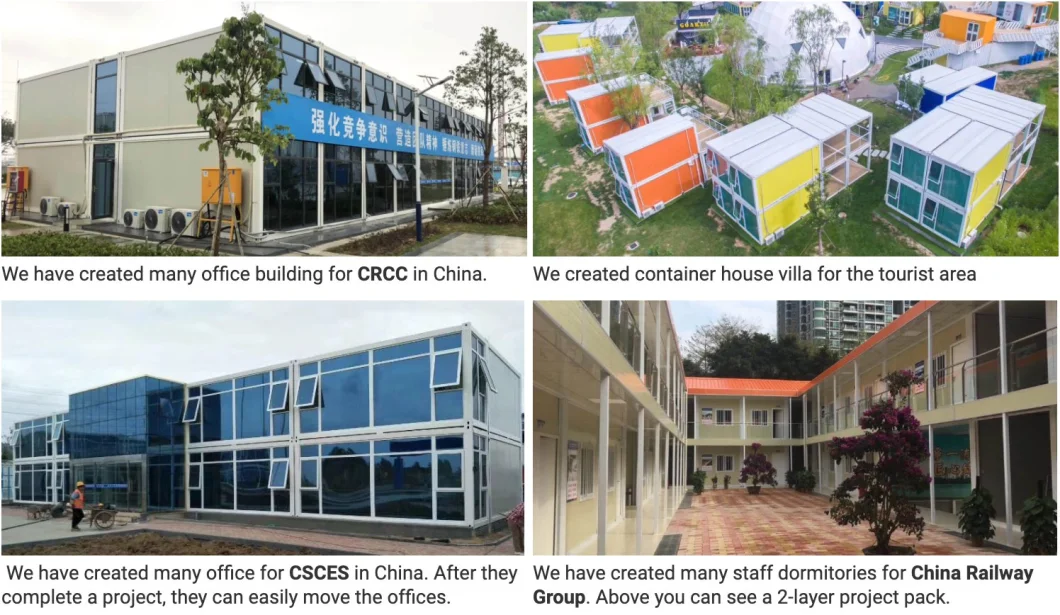 Contact Us Now